A warm welcome to readers from South Sudan and Argentina



The thing about Saigon is ... it is a place of sharp contradictions.


It is exhilarating. Magical. Extraordinarily friendly.

Commercially dishonest, polluted and remorseless.

Beautiful but chaotic.

Peaceful and noisy.





The giant Buddha at Giac Lam Pagoda
Prayers at the Giac Lam pagoda
during Vesak
Viet Rap Style - this video filmed in Saigon


Freestyle by Karik et al - with images inside Benh Thanh Market


Most of Vietnamese music is romantic. Even the rock band Buc Tuong cannot help but play slow, wistful songs. It sounds soppy until you remember the resolve of the people here. All that compassion and yearning becomes focussed on the object.
My friend Nam is my music adviser here.
One or two have suggested Viet rap sucks. But if you see some of the poor neighbourhoods by the riverside in district 8 (they make Eminem's trailer in 8 Mile look luxurious) and then remember what the Vietnamese did to supposedly superior American forces then these tracks take on the toughness requisite with rap.
Ho Chi Minh City by the Saigon River. Saigon is known for its low crime rates.
Cock faithfully guards the angler's scooter.

Fishing on Hoang Sa, by the canal.

Incidentally Hoang Sa is one of the islands in the South China Sea, part of the disputed Paracel Islands with China.

A French film Hoang Sa Vietnam passed through Saigon earlier this month but I contrived to miss it, much to my chagrin.
Takeout on the kitchen table at my apartment district 3.


Dog four ways


Nightstall


This is the view outside, down from my balcony at Cam Ly apartments, District 3.
Reading:
Last Night I Dreamed of Peace
by Dang Thuy Tram
A collection of diaries from a mobile field hospital written by a 25 year old physician who was subsequently shot by US Forces during the 10000 day war.
Listening to:
The ​​Wall's "Black Eyes"
https://www.youtube.com/watch?v=goc_BlmMfEM
My favorite lunch of the moment:
Bun Rieu
. Rieu pronounced Zee-oh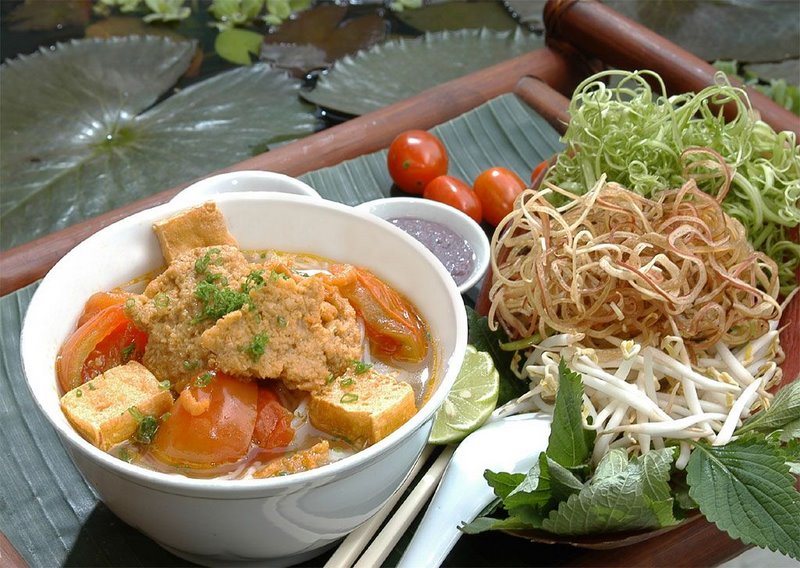 The number of additional ingredients and garnishes is astonishing;
chicken sausage,
pork croquette,
oysters,
clams,
tofu,
cube of blood jelly,
fried pork belly,
tomato,
scallion.
This is a seafood and chicken broth with thin rice noodle called bun.
Garnished with:
lime wedges,
fresh red chilli,
hot shaved banana flower,
green juicy shaved cucumber,
gọi another vegetable (shaved)
bean shoots,
a small purple herb tasting of aniseed. You tear the leaves and drop into the soup bowl.
Wash down with a liter of sugar cane beverage poured over ice. The vendor puts the stems through a mangle and the juice runs out while you sit and watch.
Happy Travelling!